This photo essay, based on the film, was written by Surbhi Dewan for India@70: Memories & Histories
August 15, 2017
…
A THIN WALL is a documentary film co-produced by filmmakers Mara Ahmed and Surbhi Dewan. Both are descendants of families torn apart by the Partition – one ended up in India, the other in Pakistan.
.
Surbhi and I met in 2008, at a film screening in Rochester, NY. As soon as we identified ourselves as South Asian, we began to talk about the partition of India. Surbhi's family is from Lyallpur (now in Pakistan) and they moved to New Delhi, India, in 1947. My mother's family is from Gurgaon (India) and they immigrated to Pakistan after Partition. We both grew up with the same legacy of loss and displacement yet our perspectives were slightly different. Was partition a straightforward tragedy that should never have happened or was it a protective measure for a minority that would have been oppressed inside of united India? Was the entire concept of partition problematic or just its incompetent execution? We felt that we were meant to make a film together, a film that would be able to contain all these contradictions, a film shot on both sides of the border.
[Mara Ahmed, Director & Producer]
.
My engagement with lost homes and homelands began the day I was born into a family of survivors of the Partition. That feeling of loss continued to cling on to me well into adulthood, and seeped into my academic and professional pursuits. I was a grad student in upstate New York when I had a chance meeting with Mara Ahmed, a Pakistani-American documentary filmmaker. Very soon we realized that both she and I had the same story to tell. Even though we had been born many years after the Partition of India, and on opposite sides of the border, our personal connection to that historic event had clearly left a strong, lasting impression. And this was the story we were eager to share with the world.
[Surbhi Dewan, Producer]
.
Images & Moments from the film:
"I grew up in Europe and we returned to Pakistan when I was a teenager. I could connect to my mother's nostalgia for a lost home, an imagined childhood. I had this perpetual dream for as long as I can remember. I was back there in the lost landscape of my childhood. Everything was the same, but also a little bit different, in a disturbing way, because it seemed all so familiar. The buildings looked the same but they were not in the exact same place. I was never quite sure which one was ours. I walked from one skyscraper to another, looking for clues to our apartment. It was incredibly frustrating and scary. Some times I thought I had found it, but in the end I was never successful. It was as if I was stuck in a bizarre time warp, and I would never be able to go back home." [Mara Ahmed]
.
"I wanted to leave home and everything that was familiar to feel something vaguely similar to what my grandparents must have felt in 1947. I hadn't anticipated that travel came with its own attachments and memories. I couldn't erase or ignore them. They had become a part of me. Home had become something complex and intangible." [Surbhi Dewan]
.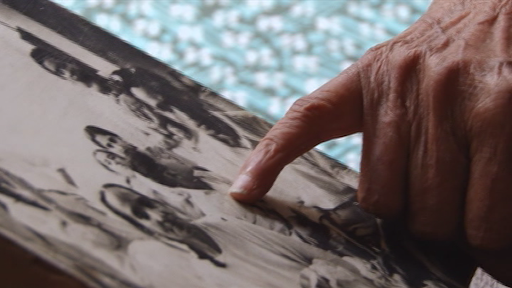 "Images and emotions forgotten for many years, and buried deep in the past, break time barriers and come pouring out. The mist of time clears and I am transported back to my place of birth in the 1930s. That place is Lyallpur, now Faisalabad in Pakistan." [Jatinder Nath Sethi, Surbhi's Granduncle]
.
"Our garden overflowed with jasmine shrubs. Jasmine blooms at night. You can imagine its sweet perfume. Our evenings were suffused with it. There would be heavy rains in the summer. Mangoes would be floating in rainwater. We'd fish them out and eat them." [Sajida Burki, Mara's Family friend]
.
"As soon as the Partition was announced there was such chaos, such hellish scenes. Everyone wanted to leave the place as soon as possible. They had never dreamt of leaving their country. Every evening there would be fires everywhere. I can still see the flames. Then there was blood. The following day we would find out who had been killed."
[Sajida Burki, Mara's Family friend]
.
"They said keep running and try to jump into a well. That really scared me. The poor people in our village kept saying, "Please take us with you." I kept reassuring them. I was acting brave but was frightened inside."
[Naseema Aslam Khan, Mara's Family friend]
.
"The railway line was right in front of our house. We saw a man run from the platform. Four or five men ran after him. They killed him in front of our eyes. We could not do anything. Kids can't do much, they can only witness."
[Jitinder Sethi, Surbhi's Grandaunt]
.
"It was late at night when our train left the Wazirabad station. There was a thin band of light coming through the window. When the train passed through all these places we knew so well, I felt agonizing pain. It was so close and dear to us, that area. We felt like we were leaving a part of ourselves there." [Jitinder Sethi, Surbhi's Grandaunt]
.
"When we got to Lahore, it felt like paradise. We didn't feel sad about leaving our home and our friends. Our sacrifices seemed fated. Otherwise we wouldn't have gained our country. This homeland was now ours." [Nilofer Saleem, Mara's Mother]
.
"Leaving the property, leaving the house, and struggling in Delhi was an extremely sad experience. It affected me so much, that the excitement of freedom wasn't there. That was lost." [Santosh Malik, Surbhi's Grandaunt]
.
"Relationships don't change, my child, times change. People forget their friendship, their love for one another. There is an expression in Urdu or Punjabi: "Hook uthti hay." It means that there is this ache…" [Jitinder Sethi, Surbhi's Grandaunt]
.
"Partition: sounds like a thin wall made of simple materials between rooms that can easily be taken down. Take the word in your left hand and feel its weight. It is nothing – a few sheets of paper."
[John Siddique in 'Six Snapshots of Partition']